Daughters of Zion Cemetery (DOZC) is an African American cemetery in Charlottesville with over 300 known burials, including many prominent figures in the history of Charlottesville. The cemetery was established in 1873, however by the early 21st century it had fallen into disrepair. A local nonprofit group called the Preservers of the Daughters of Zion Cemetery was formed in 2015 to restore and preserve the cemetery. In 2018 I put together a story map to help the Preservers tell the story of DOZC. A great deal of research had already been done about the cemetery, so my goal with this project was to bring all that material together into a focused story that used data and mapping to honor the lives of those buried at DOZC.
Historical aerial photos from the UVA Scholars' Lab allow us to visualize the cemetery over time, beginning in 1937.
Over the years many grave markers were destroyed or removed from DOZC, making it impossible to know everyone who is buried at the cemetery. The Preservers have partially gotten around this limitation by combing through obituaries and other records to build a list of individuals who are believed to be at DOZC. Thanks to their work, we can visualize burial trends over time and also begin to quantify how many unmarked graves are in the cemetery.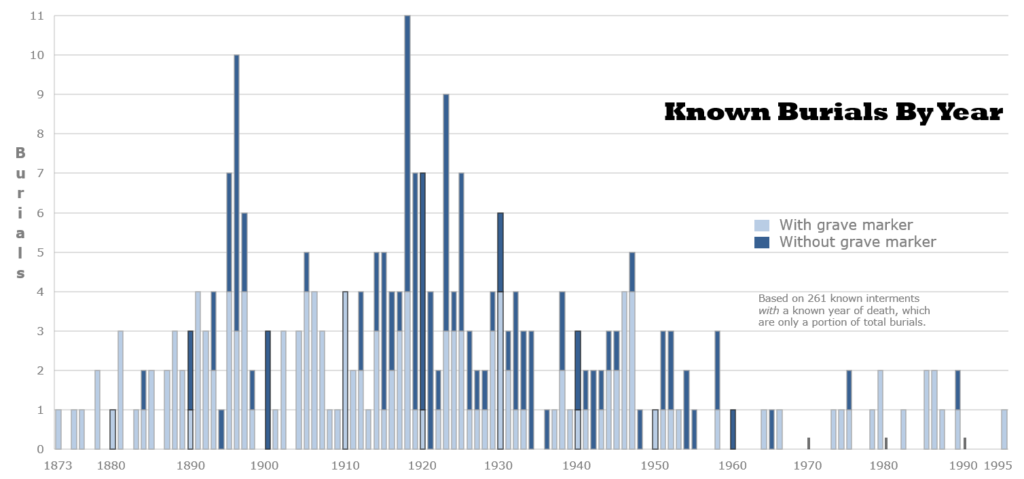 The Daughters of Zion story map can be found at this link: https://albemarlehistorymapping.com/dozc